Focus on Building Your Business, Not Managing Your IT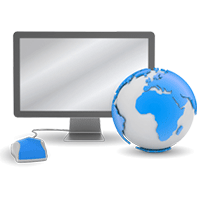 Direct Technology Group's managed IT services help eliminate your company's technology-based headaches.
Many businesses try to take on the challenges of IT on their own, but soon realize it's just too much to handle in addition to trying to manage a profitable business.
With Direct Technology Group Practive Managed IT Services, you can focus on building your business instead of managing your network infrastructure. We deliver enterprise-level IT support and solutions that are tailor-made to relieve all of your organization's technology-induced pain points.
Reduce Costly Downtime - Reduce IT Costs
Reduce and stabilize your IT costs and experience unprecedented reliability with proactive managed services from Direct Technology Group.
The cost of unscheduled downtime casued by a virus or technical failure can be staggering. A Gartner study revealed that each unmanaged desktop costs businesses an annual average of $4000 in emergency services, lost productivity and opportunity costs.
Industry experts and research studies conclude that managed managed services cost less and protect IT assets better than unmanaged sites and devices. A recent study by the Computing Technology Industry Association (CompTIA) found that network servers and devices that went down took 96% longer to repair when they were not covered by a remote monitoring service. The same study showed that end-users experience an average of 88% longer periods of downtime when the network server or device that fails is not covered by remote monitoring.
Dependable Service
Round-the-clock monitoring and management
Direct Technology Group provides 24/7/365 monitoring and management of all your IT assets. We know when an event that may affect the normal operation of IT occurs. When there is a problem, we diagnose and resolve most issues through rapid remote remediation that takes much less time than onsite visits, saving you the significant costs of downtime.
Stay Competitive
Stay competitive by making technology your business advantage. With DTG's expertise, your business can qucikly and affordably meet your business goals. Whether it's adapting to a changing competitor landscape, achieving business growth, protecting your network, safegarding client data, or reaching new clients, DTG's proactive managed services can put you on the fast track to a modern and efficient business IT environment.
For more information about Direct Technology Group's proactive managed IT services, please take a moment to fill out the form on this page or call 954-739-4700.